A Statement From The President Of C.C.B.M.S
We started Calvary Chapel Bible Ministry School with the vision to help equip those who sense a call to the ministry. This calling may be in the area of Pastoring, Teaching, Missions, Evangelism, or simply the desire to be a more effective servant in one's local fellowship.
We welcome anyone who desires to learn the Word and to be used by the Lord, and count it a privilege to have the opportunity to help you fulfill the Lord's plans for your life.
In His Service,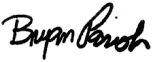 Bryan Parish,
President
Calvary Chapel Bible Ministry School La Mirada